OUR APPROACH TO MARKETING DESIGN
Relevant, contextually driven marketing design to meet the unique needs of your business
Deep business understanding
As a marketing design agency, we understand the tech industry, demand of business, marketing goals, and the need of the target audience to create innovative solutions that boost business performance.
Focus on conversions over aesthetics
Visually striking images may appeal to the audience but effective communication drives business. Leverage our marketing design services to create functional designs that convert beyond impressions and reach.
Consistency is the key to brand success. We ensure that all the marketing collateral and customer interactions uphold a cohesive brand story and consistent tone of voice.
Communicate stories over design
Stories drive users to take action. We balance visuals and copy to create a compelling storytelling experience that drives engagement.
Marketing teams are on the run and we know your demanding timelines. Our marketing designers are conditioned to meet your expectations so you can fulfill your marketing objectives on time.
OUR OFFERINGS
Consistent design support to meet your marketing goals
Website
Storytelling experiences that bring brand purpose to life
With a focus on your business model and marketing goals, we design websites that communicate your brand's story and establish trust and credibility to influence the audience. We follow a content-first approach to create a solid, customer-centric, and engaging website that hooks the audience to take action and drive conversions. Our approach involves implementing the best usability practices to enhance the browsing experience and create a conversion-centric design.
User-centric design
Improve SEO to increase traffic
Reduce friction in the customer journeys
Boost engagement and retention
Landing page design
Design webpages that drive traffic for marketing success
We create high-converting landing pages with a focus on the content layout to help you capture customer data for marketing and promotion purposes and improve the ROI of your business. By providing a relevant and personalized experience, we design engaging landing pages with a clear and concise value proposition, concise copy, and minimal navigation to keep visitors focused on the desired conversion goal.
Optimize pages for goals and metrics
Boost marketing campaign ROI
Create visually appealing pages
Improve brand perception
10x article
Content design and a compelling storytelling experience that shapes your brand
We level up your content marketing by creating content-led designs with visual storytelling experience and high readability patterns. Adding a perfect balance of text and visuals in long-form articles, we design highly scrollable web pages that engage readers, create an impact, increase shareability, and drive business value. 
Balance text and visuals perfectly
Engage readers and drive content consumption
Evoke emotions and prompt desired actions
Mobile-first approach for optimized experience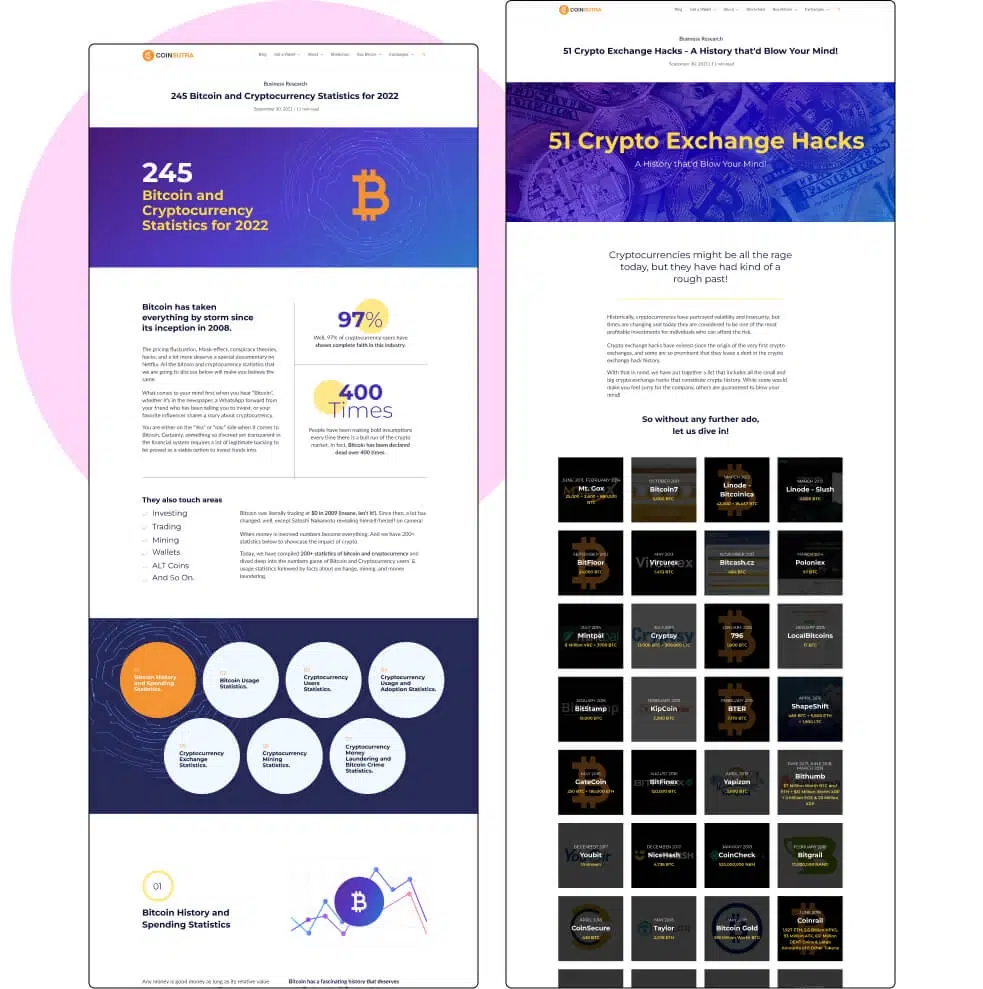 Infographics
Communicate your data through an engaging storytelling experience
We design highly effective infographics to make complex ideas, concepts, and data easily understandable and engage the audience. To reduce the complexity of the presentation of content and showcase information in a simple and visually appealing manner, we stick to minimalism. We focus on enhancing the effectiveness of marketing efforts and achieving business goals.
Enhance brand awareness and recognition
Shareable content for social media and wider reach
Create a memorable and lasting impression on audiences
Improve retention and understanding of information
Social media designs
Communicate their brand message and connect with the target audience
We design social media creatives that align with your business and help to increase the effectiveness of product marketing. With a focus to reach the target audience on their preferred platform, we design social media campaigns that help your business to stand out, increase brand awareness, drive engagement, and ultimately drive conversions. 
Boost brand recognition and visibility
Enhance engagement with target audience
Make the most of cost-effective marketing strategy
Unique designs for audience interaction
Newsletter/Emails
Reach out to customers and drive conversions with well-designed email newsletters
We design email newsletters that maintain brand consistency and keep the subscribers engaged and informed through effective visual communication. Our approach is to craft an eye-catching and visually appealing email newsletter design that can grab the reader's attention, increase click-through rates, and ultimately drive revenue for the business. We offer a fast turnaround of designs for the frequent and recurring newsletters of eCommerce businesses.
Boost loyalty, and enhance customer relationships
Raise CTR and conversions
Target audience segments, track results
Drive conversions with strategic messaging and CTAs
Pitch deck presentations
Professional slide deck designs that influence the target audience
We help you tell a compelling story through a visually impressive pitch deck that summarizes a business proposal, showcase your business idea, persuade potential investors or partners to raise capital or scale up. Our approach is to design a pitch deck that can help make a lasting impression, clearly convey key information, build trust in the company's abilities and potential and increase the chances of achieving desired outcomes.
Effectively communicate key ideas, strategies, and goals
Hold the audience's attention and engage them
Sell your USPs & differentiate your business
Build trust and credibility of your business
Design Process
Crafting intuitive experiences with our fluid design process
01
Idea discovery
& research
Understand your idea, business model and the market problem that your product will solve.
Discovery session
User research
Competitive report
UX audit
02
Shaping the
ideas
Translate ideas and expectations into a wireframe. Detect changes early to avoid UX pitfalls.
Information architecture
Data flow
User journey
UX writing
Clickable prototype design
03
Visual design of
the project
Transform wireframes into production-ready UX design by implementing visually engaging UI elements.
Design systems
Motion design
Product look and feel
Micro interactions
04
Design testing
and support
Deliver the final visual design and transition UX design assets for smoother development kickoff.
Usability testing
Quality analysis
Align design with development
Talk to our UX expert
Reach out to learn more about how Marketing UX design can impact your business outcomes.
Book a call
Chintan Bhatt
Founder and Design Director, UXTeam
FAQs about marketing design
What is marketing design & how can it help my business?
Marketing design is a process of creating visual and graphic assets that help businesses promote their products or services effectively. It encompasses various elements such as websites, social media posts, newsletters, 10x articles, and landing pages. Marketing design can help businesses to improve brand recognition, increase customer engagement, and generate more leads and sales.
What is your approach to marketing design?
Our approach to marketing design is to understand your business goals, target audience, and brand personality. We conduct extensive research to gain insights into your industry, competitors, and audience preferences. Based on this information, we create custom designs that are unique, attractive, and effective in achieving your marketing goals.
How do you ensure that your designs align with my brand?
We begin by understanding your brand guidelines, brand values, and target audience. We create designs that reflect your brand personality and are consistent with your existing marketing materials. We also offer a review process where we work with you to refine and improve the designs until they align with your brand.
How long does it take to complete a design project?
The time it takes to complete a design project depends on various factors such as the scope of work, the complexity of the project, and the number of revisions required. We work closely with you to understand your timelines and provide an estimated completion time for the project.
What kind of marketing design assets do you offer?
We offer a wide range of marketing design assets such as websites, social media posts, email newsletters, 10x articles, pitch decks, and landing page designs. To know more, check out our offerings section mentioned above.
Can you explain how you implement best usability practices?
At our Marketing Design Agency, we prioritize the user experience in all our designs. We implement best usability practices by conducting user research and testing, creating user personas, and conducting heuristic evaluations to identify areas of improvement. Additionally, we follow established design patterns and use consistent UI elements to create a cohesive and intuitive user experience.
How do you create visually appealing landing pages?
Our Marketing Design Services team understands that a visually appealing landing page is essential to converting visitors into customers. We start by understanding the brand and target audience, and then we design a layout that highlights key messaging and calls to action. We use engaging imagery and typography, with a clear hierarchy of information, to guide the user's attention toward the primary goal of the landing page. Our designs are also optimized for different devices, ensuring that the landing page looks great on desktop, tablet, and mobile.
How do you ensure that your email newsletter designs are effective?
To ensure that our email newsletter designs are effective, we focus on several factors. First, we use responsive design to optimize the layout for different devices, making it easy for readers to access and engage with the content. We also use clear and concise messaging, with a strong visual hierarchy to guide readers' attention. Additionally, we test the designs across different email clients and devices to ensure compatibility and optimize for deliverability. Finally, we use analytics to measure engagement rates and adjust the design accordingly to improve effectiveness.
How can I hire a designer from your agency?
If you want to hire a designer from our Marketing Design agency, please reach out to us through our website or email. We will connect you with our project manager, who will understand your requirements and guide you through the process. We offer flexible engagement models, and our designers are experienced in different design tools and platforms. We will provide you with a transparent and detailed project proposal, including timelines, pricing, and deliverables. Once the project is initiated, we will keep you updated on the progress and provide you with frequent opportunities for feedback and collaboration.
Success stories
How our solutions helped our
clients and what they say about us
CAPABILITIES
Other services that may interest you
Let's start a
design partnership
Tell us about your business needs and let's understand how we can collaborate.