Overview of the project
DXOutcomes is a cutting-edge platform tailored for gyms and fitness facilities, optimizing operations and enhancing member satisfaction. With advanced features and personalized capabilities, it revolutionizes the fitness industry by providing valuable insights into sales, retention, and member engagement.
Industry

Fitness

Platform

Web App

Location

USA

Services

Design Strategy
UX Design
UI Design
Design System
Our Approach
Insights on DXOutcomes
To create a user-centered design for DXOutcomes, we engaged in elaborate discussions with stakeholders to fully comprehend their vision and requirements. Through in-depth exploration of gym operations and essential decision-making parameters, we gained valuable insights that guided our design process.
Gym owners require a comprehensive overview of data in the fitness industry, gradually funneling down to access specific insights.

Gym facilities often have multiple locations across different states or regions that need to be centrally managed

Gym owners have limited technical knowledge and prefer minimal on-screen text, emphasizing a preference for a more visual interface.
Executive Dashboard
Create your own Dashboard
Enables users to personalize the dashboard with the metrics they find useful to save time and increase efficiency
Acquisition Dashboards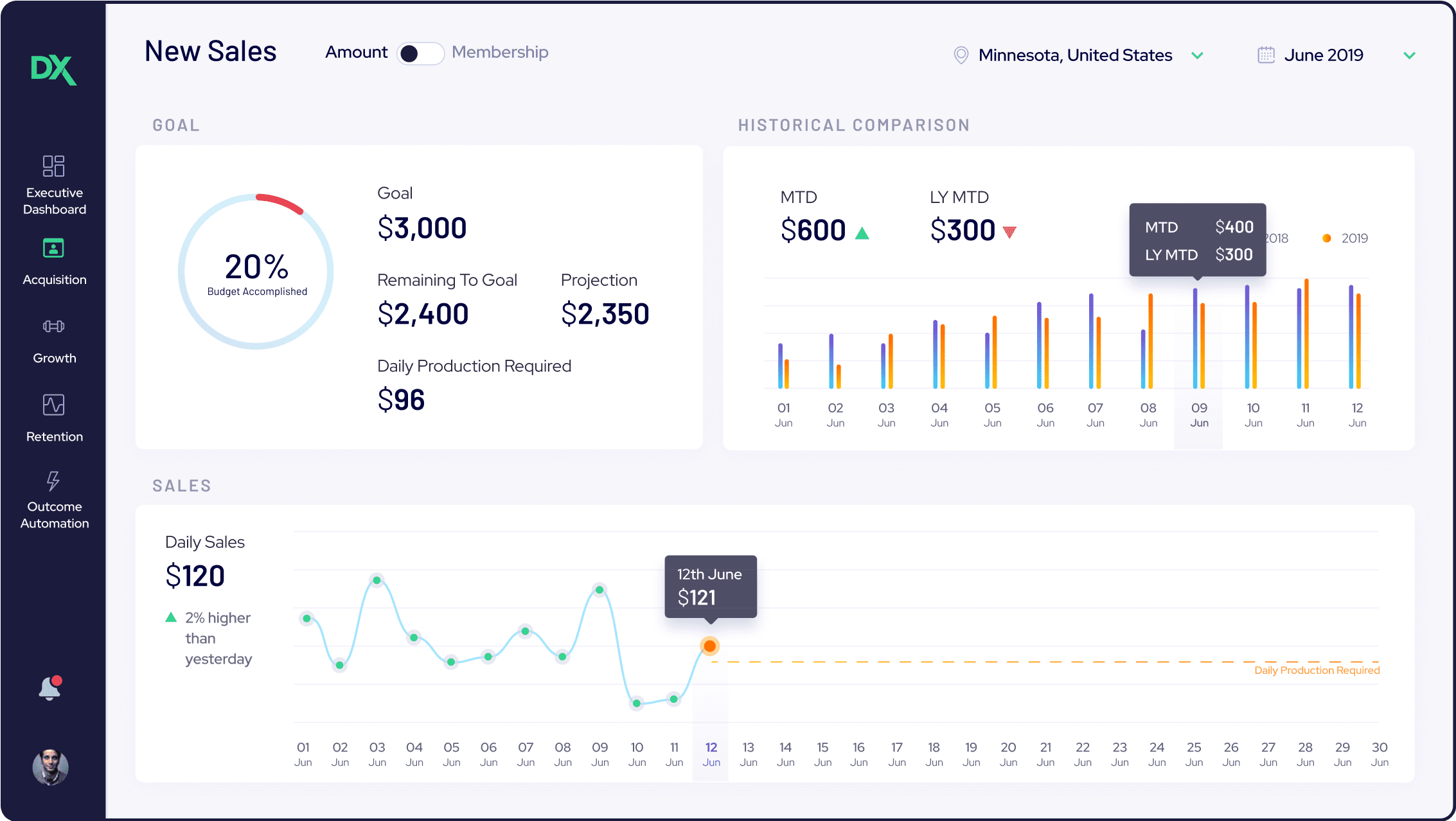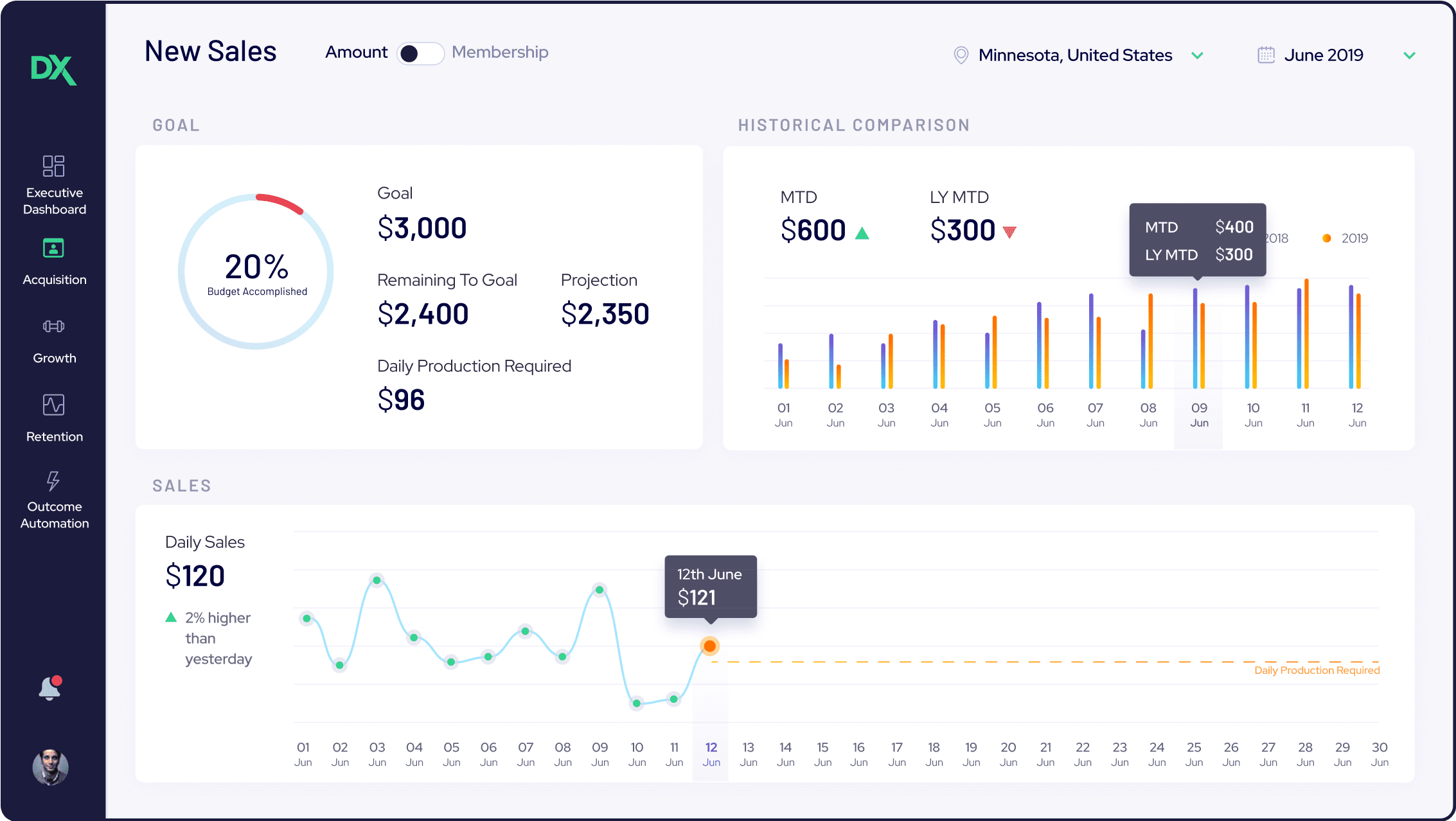 Real-time insights
Empowering managers to access performance metrics while allowing seamless switching between membership and revenue figures to compare historical data.
Acquisition overview and conversion
We designed the lead conversion funnel to ensure that the decision-making process becomes significantly streamlined and straightforward for the users.
Member tracking through structured data
Leveraging predictive analytics, we created dashboard designs that track and analyze members' journeys. This helps users to anticipate future outcomes of members based on their interactions and content consumption.
Growth Dashboards
Expense tracking for each facility
Users can easily track expenses at their facility across different categories, identify areas of highest expenditure, and assess the impact of those expenses to make informed financial decisions.
Simplifying workflow to enhance efficiency
In addition to providing crucial metrics, our design incorporates convenient quick actions to empower managers with the ability to take immediate and effective actions when needed.
Retention Dashboards
Location-based retention
We designed dashboard that provides valuable insights into member churn and location-specific factors influencing their decision to leave. This empowers managers (users) to implement targeted strategies for member retention.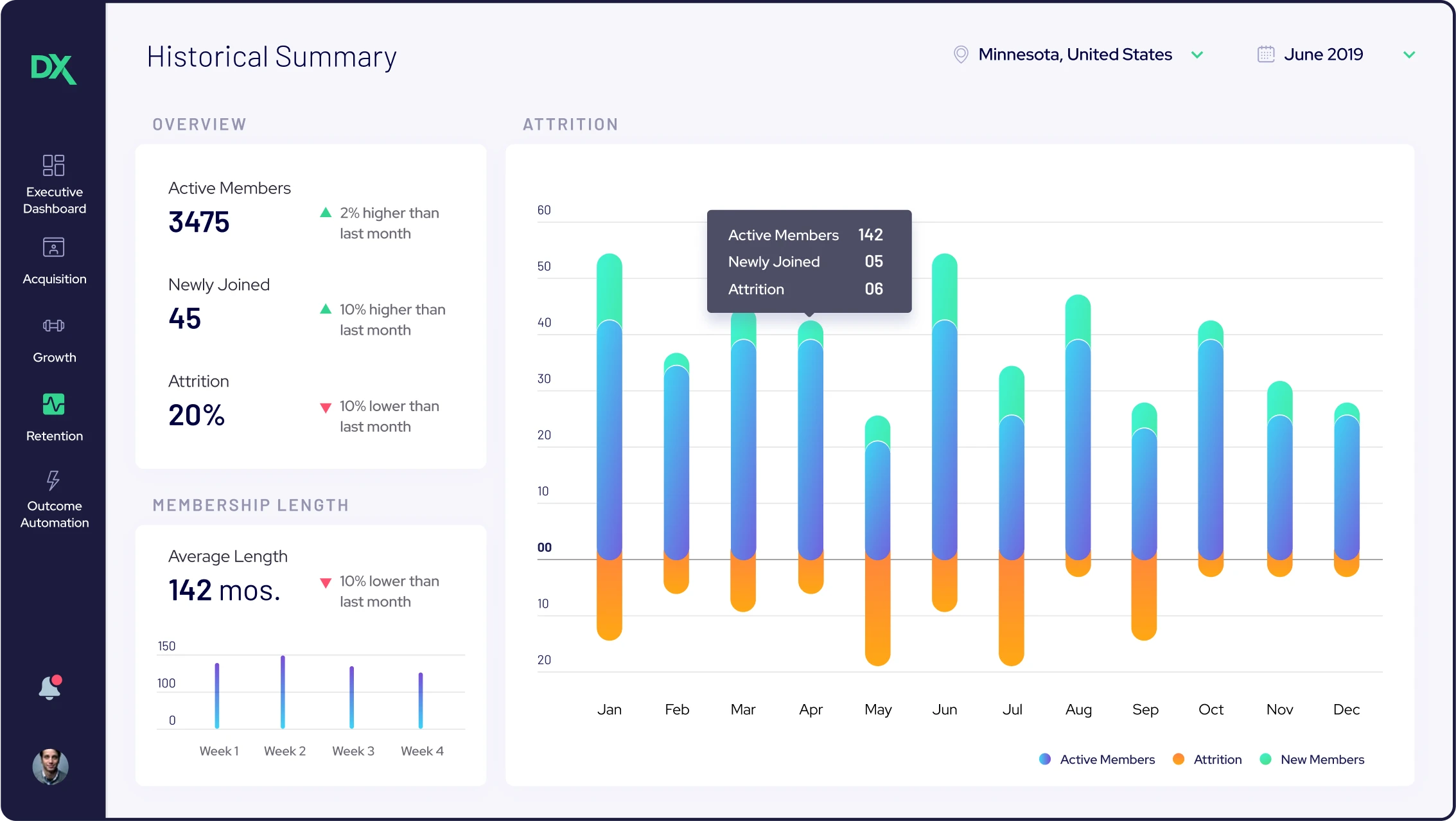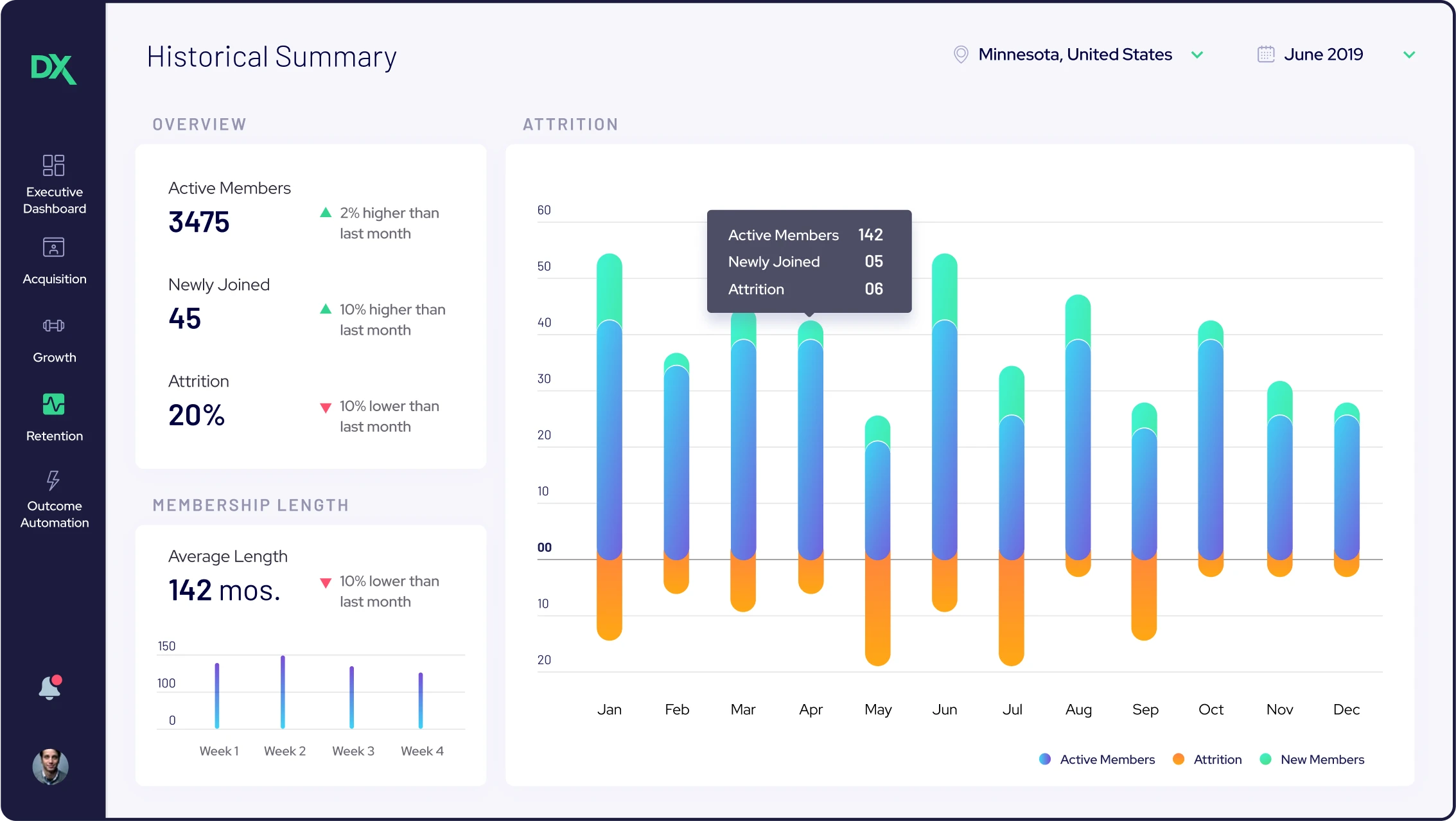 Holistic view of members' behaviour
Utilizing location data, our analysis provides managers with insights into member attrition, enabling targeted control measures for improved retention and member satisfaction.
What we delivered
Our comprehensive dashboard design solution that would provide actionable insights to users of DXOutcomes platform and help them informed decision to improve member retention and satisfaction.
10+ hrs

Discovery sessions and
feedback meetings
"UXTeam provided exceptional design work that exceeded my expectations. They were professional, responsive, and highly creative in translating my vision into a visually stunning and functional design. I highly recommend their top-quality services."
Have a fitness project or idea in mind?
Let's connect and understand how we can collaborate to take it to the next level!